so i love a sunday evening curled up on my sectional with a blanket, a glass of wine, and my favorite girl ria (my cairn). but to be honest, sometimes it gets a little quiet without someone to discuss the plot twists. yes, i'm a talker during a movie. it seems that human nature naturally leads us to want a warm [human] body to cuddle up to for a N&C session.
If you're coming to my place, please understand that we will actually watch the movie and then you will go home.
funny story-- the first time i was invited to "watch a movie" in college, i really thought we were going to watch a movie. the naivity of being an 18-year-old virgin generally interested in meeting new people. that wasn't the goal and boy did i feel silly. and awakened...in the sense of my little thought process was changing. he didn't care too much for the movie. that was probably the last time that guy talked to me beyond a head nod in the cafe.
But as I was saying, If you're coming to my place please understand that we will actually watch the movie and then you will go home. And if you're coming to my house I'll already have a list of suggestions waiting in the queue. Here are my favorite activist picks. How many have you seen?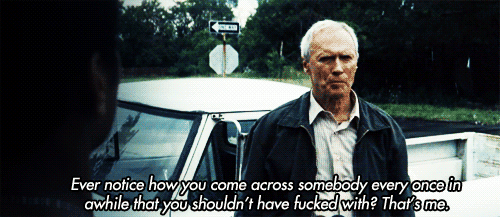 1. Gran Torino -- Wouldn't we all love to see a bigoted war veteran change his views on race relations after a major life changing event? It's not everyday you see him befriending a first generation Asian teen and his family. This is truly one of my Christmas wishes.
2. The Butler-- I LOVE the bittersweet historical love-story of America between the 1950s-1980s. The whole Horatio Alger meets the African American Domestic worker plot line is enough to make me weep. It tells the story of so many of our Great Grand parents, Grands, and maybe even our parents and the countless sacrifices they've made to give our families a solid foundation.
3. School Daze -- G Phi G...Black scholars...dope fashion...enough said.
4. Do the Right Thing -- Because Mookie was one solid brotha and Radio Raheem made me fall in love with the power of music. They dealt with what we're still fighting some 20 years later. #shame
5. Slumdog Millionaire -- Once I make it big, I'm putting my whole team on! Is this not the plot of our ghetto narratives? Is this not what a whole episode of Blackish was dedicated to? Jamal Malik, an 18-year-old boy from the slums of Mumbai has the chance to win it all. But how can an uneducated and poor brown brotha possibly know so much? And what is he really winning?
6. Living on a Dollar (Netflix)-- If you didn't already appreciate the life you have, especially those of us living in "first world countries," then you need to reevaluate some things. This documentary reveals how American-privilege has jaded many of us. Four men journey to Guatemala to experience life in a culturally rich, but financially burdened community. Powerful stuff.
7. On the Way to School (Netflix) -- Again American-privilege has us all messed up. As an educator I cried watching this film. I cried for my students. I cried for their varied experiences. I cried for myself and my mission. I CELEBRATED for those children in this documentary. I SHOUTED for their pride, dedication, and humility. My goodness. Have some tissues and a prayer cloth ready.
8. Higher Learning-- Was this your college experience? Atheltics. Girl Crushes. Joining Brotherhoods. Awakening?
9. Brokeback Mountain -- Love manifested is the most powerful and beautiful human experience. It's a shame people can't always be free to express it. No judgement needed.
photo source: beyondstructure.com
10. Crash -- Six degrees of separation and the common human traits bind us all even when we don't want to accept it.
I literally have a list of about 10 more titles, but I'll leave you with these. So if you want to netflix and chill my way, let me know!